In the lead-up to opening of 'Stories are Made Loop by Loop' at the Virginia Quilt Museum on July 12 this post highlights themes explored by the makers. The artists chose to spend hours alone with fiber, color, shapes and simple tools developing work that visualized a personal experience or important issue. They used the rhythmic slow process of pulling loops to meditate and heal, advocate, resolve personal problems.
When you visit the exhibit or read the digital catalog, available in mid July, we invite the viewer to LOOK at the work before reading the stories. THINK how you react to the design. Is there a story in your life you are reminded of? Are you curious to know the maker's story? Does a piece have you thinking about the topic differently?

Motherhood and Identity are explored by Elizabeth Miller and Karen D. Miller. "I imagined the words on the staircase in Breaking the Cycle as representing aspects of motherhood while I stumbled upward accompanying my sons to their adulthood. " Elizabeth Miller

Karen D. Miller is a contemporary textile artist and writer using rug hooking to create conversation around the consequences of motherhood on women's identity, perceptions, relationships and value. The series In the Shadows captures moments of life.
Healing from a diagnosis of breast cancer has led to a career as an artist and writer, inspiring others to connect with their joy and sense of purpose. The meditative rhythm of loop pulling and journaled words inspiring a design help along the creative journey. Meryl Cook

Doodles from a time of depression, years later during covid became larger – now statements that visually demand to be heard. Terri Todd
Veterans' Social Issues are visible and personal. "The work 'Urban Icons' depicts the result of society and legislative reactions to the mental illness, drug and alcohol addictions experienced by many veterans as they re-enter civilian life." Cheryl Bollenbach

As a female veteran, Mary Lopez de Morales (@byJanesDaughter) can use the symbolic language of her military experience to highlight inequities within the ranks and public. A thistle represents 'Pain – Strength ' Survival'.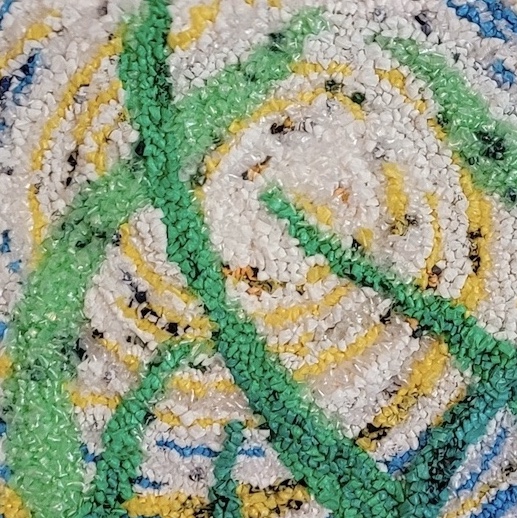 Rug Hooking is an example of using waste materials to make a new object. Generations of frugal homemakers passed these skills on. Each person picked up the hook, gathered fabrics and recorded their life. See what these artists save from the land fills.
"My goal is to continue the craft heritage of my family making objects this time with the 21st C heirloom material plastic. Domenica Zara Queen

A background in environmental regulatory compliance predisposed Laura Salamy to experiment with all kind of fibers and textiles, specifically those that might otherwise end up in landfills.

As curator, I look forward to reviews, comments and maybe a few new rug hooking enthusiasts after experiencing 'Stories are Made Loop by Loop' at the Virginia Quilt Museum July 12 – October 7 with reception September 23. Susan Feller
The exhibit is scheduled to travel to Juliet Art Museum at Clay Center for the Arts & Sciences, Charleston, WV March – June 2024; then The Dairy Barn Art Center, Athens, OH July 5 – September 11 and ending at Schwenkfelder Library and Heritage Center, Pennsburg, PA September – December.