This project lives up to my chosen word for 2023 – PROMOTE. I am officially announcing the exhibit 'Stories are Made Loop by Loop' opening July 12 at Virginia Quilt Museum, 301 S Main, Harrisonburg, VA extending through October 7. I have curated hooked work by seven international artists. Meet the makers this month. In the June 20th post I will provide details from their stories . Plans for July's post include a link to a virtual catalog for our global network and on-site photos.
Colour, texture, joy and self-compassion define Meryl Cook's work as a fibre artist and writer in Nova Scotia, Canada. She is the author of two books, One Loop at a Time, a story of rughooking, healing and creativity (2016) and One Loop at a Time, The Creativity Workbook (2017). Follow her social media posts @MerylCook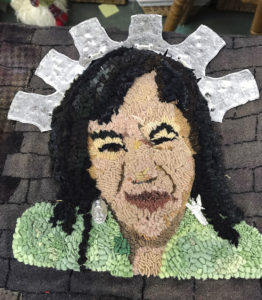 Cheryl Bollenbach has been driven to create with her hands from early childhood. Encouraged by her grandmother to observe the world around through the eyes of an artist, Bollenbach studied figurative sculpture in college. Dimensional work has carried through in the mixed media work today. She teaches and sells rug hooking materials through cdbStudios.com located in Tennessee.
Mary B Lopez Morales resides in Canada holding dual citizenship with the US. Her experiences as a US Veteran are echoed in the textile art she creates. Many pieces have supported organizations through sales and conversations the images inspire. Represented in the United States by UnitingUS.org, her work has welcomed visitors on exhibit at Dulles Airport and in Washington, DC. She tells her story as @byjanesdaughter

Elizabeth Miller is a Maine fiber artist, writer, and teacher. Her sources of inspiration are North Atlantic landscapes and matters evolving around love, motherhood, trauma, and grief. She is the author of Heritage Skills for Contemporary Life: Seasons at the Parris House, published by Down East Books in 2021. Her work has appeared in several publications and is included in The Art of Mothering: Our Lives in Colour and Shadow, by Karen D Miller. Elizabeth posts at @northatlanticfiberarts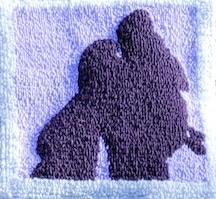 Karen D Miller is a contemporary textile artist and writer from Ontario, Canada using the traditional technique of rug hooking to create conversation around the consequences of motherhood on women's identity, perceptions, relationships, and value. She is the author of The Art of Mothering: Our Lives in Colour and Shadow (2022) and Eyes Open to the World: Memories of Travel in Wool (2019), both published by Ampry Publishing. Follow her on IG @KarenDMillerStudio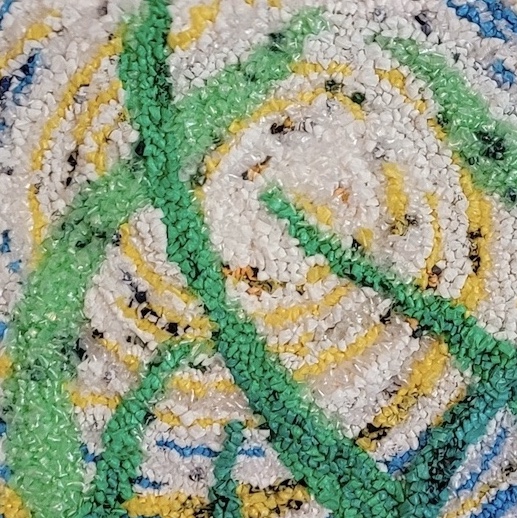 Domenica Zara Queen, describes herself as a Hispappalachian artist, using heritage textile and fiber art techniques to create artworks out of waste plastics. Queen advocates for our world view of the limited resource product to change from  "disposable" to "heirloom material". Living in West Virginia, this message looks to the future in her own community. Posting under @madartsci her collaborative work expands this awareness.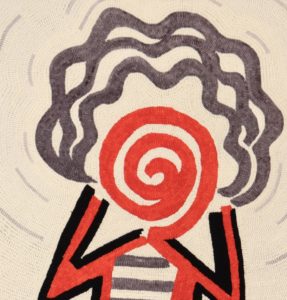 Terri Todd from Virginia, describes herself as a contemporary fiber artist currently exploring mental health topics through large scale textile compositions. Todd's graphic work has been influenced by petroglyphs, outsider art, and Keith Haring's sketches. Viewers look for meaning in the pared down figures and emotions through the simple use of color, line, and shape. Explore Todd's process @territodd.fiberart
Behind the scenes editing, photographing, and prep of the artwork to hang is taking place over the next few weeks. I am writing a curator's statement and brief description of the rug hooking tools and process for the exhibit and catalog. Extending thanks to staff and exhibits committee at Virginia Quilt Museum for this opportunity to share a sister handcraft with the quilt public. Follow their posts @vaquiltmuseum