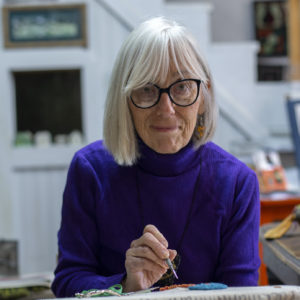 Working with my hands centers me. I enjoy identifying the materials through touch, sight and even sound. Growing up in rural America during the 1960 and 70's make-do skills were daily lessons. Dressmaking, crochet, knitting and many crafts were personally taught by my grandmother and mother, side by side with hands-on encouragement and by example. Girl Scouting broadened the life learning knowledge developing the strength needed to be a caring individual.
With this background, when I learned traditional rughooking, I realized all these handcraft techniques could be my artistic voice. Pulling loops using waste materials or newly hand dyed fabric connects me with the past. For many years the decorative path lead to a business within the niche rughooking market teaching and selling unique patterns, recipes, books and hand-dyed fabric. The patterns and products are now available through Green Mountain Hooked Rugs.
Telling the stories of Appalachian craftspeople has lead to documenting the McDonald sisters of Gilmer County, WV. The material culture represented by their handcrafted tapestries and utilitarian footstools help us understand how 'making-do' with skills and materials can lead to museum collections. Extensive research at ArtWools.com/McDonalds .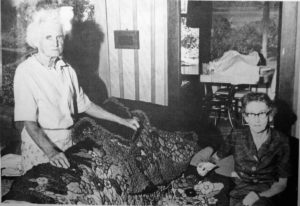 Now in my sixth decade the focus is on studio work to communicate, advocate and educate about social issues and personal beliefs. With needle and thread, hook and fabric even pen to paper visual stories are created.  The time alone provides personal therapy because of the slow process; speaks for the subjects; opens conversations with community and is recognized professionally.
 How can/should  humans interact with nature and each other is a question I leave with my viewers.