Posting early this month to include several exhibits I recommend seeing in person. First is 'Black History Month' at Concord University's Arthur Butcher Art Gallery, Athens up through September 15. The full catalog is available on RobbyMooreArt.com . I visited and went through the exhibit with Robby. We discussed how having time to explore materials and ideas has lead to expanding the variety of work. Expect to see this theme travel to other venues as he continues to develop powerful stories.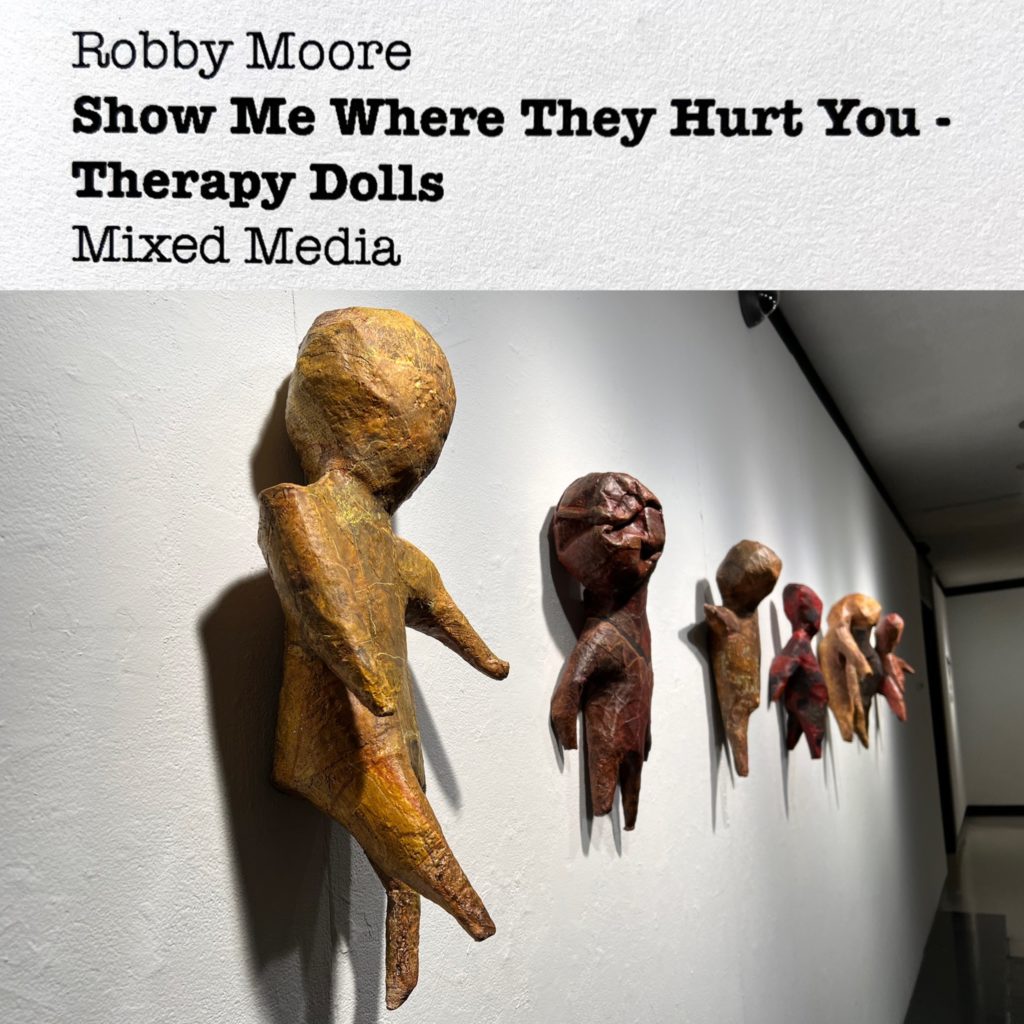 Brian M Reed opened 'Between Portals & Plains' at Helwaser Gallery on Madison Avenue, NYC. There is an opening reception September 14 evening. Exhibit includes work created during extended study in Bali last year. On textiles, paper and with ink, he combines symbols real and imagined. The show is up through December 28. Brian is from West Virginia, his professional network has lead to this connection and others worldwide.
Eastern West Virginia Technical and Community College in Moorefield, WV held an exhibition with awards juried by master artist Robert Singleton. Miss Mountaintop Removal received honorable mention. Congratulations to the awardees, thanks to Mr. Singleton for his critiques and much appreciation to Trent Montgomery and the college for this inaugural programming.
On September 23 the workshop Basic Rug Hooking – Making Do will be taught at Virginia Quilt Museum, Harrisonburg, VA. Register through this link The project includes learning how to pull a few loops and add this skill to applique' and embroidery to make a small mat or even cover a set of cans like the thrift of past generations.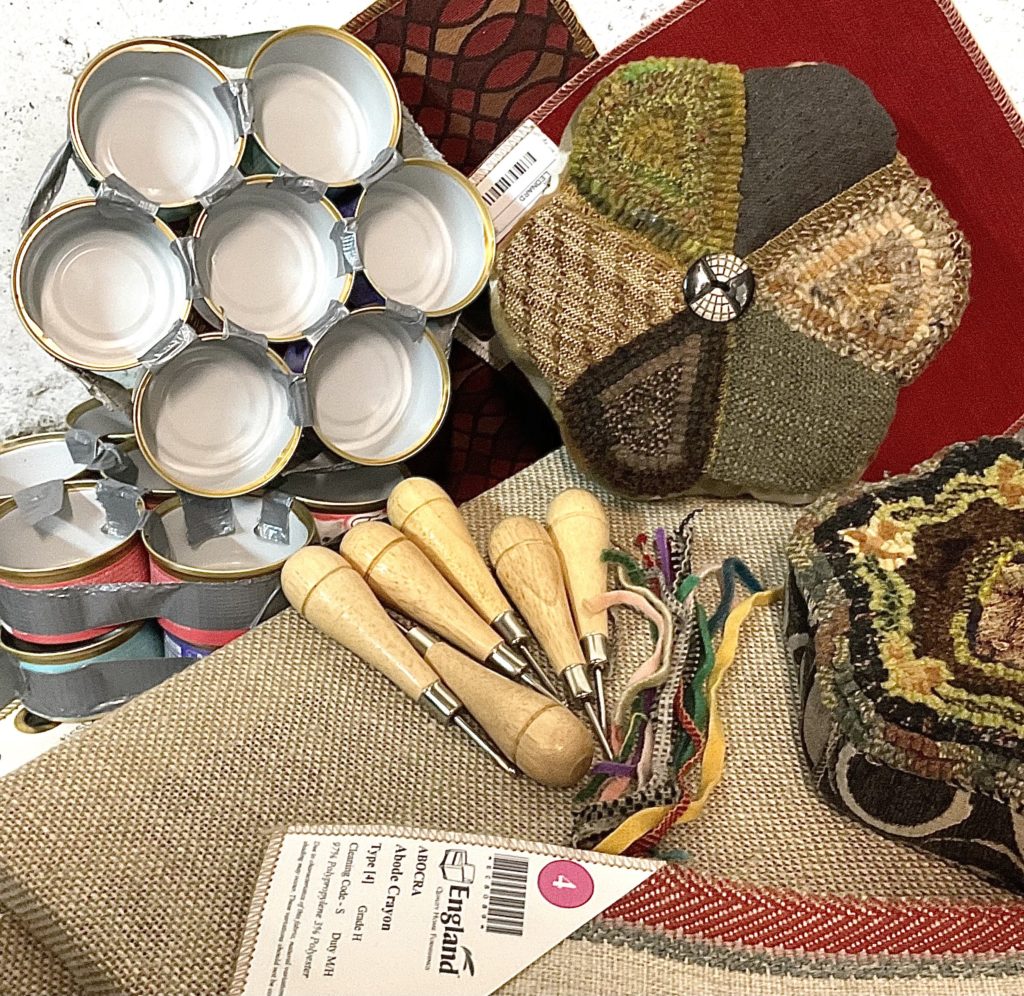 Stories are Made Loop by Loop continues through October 7 in the Harrisongburg venue. The digital catalog is available through this link.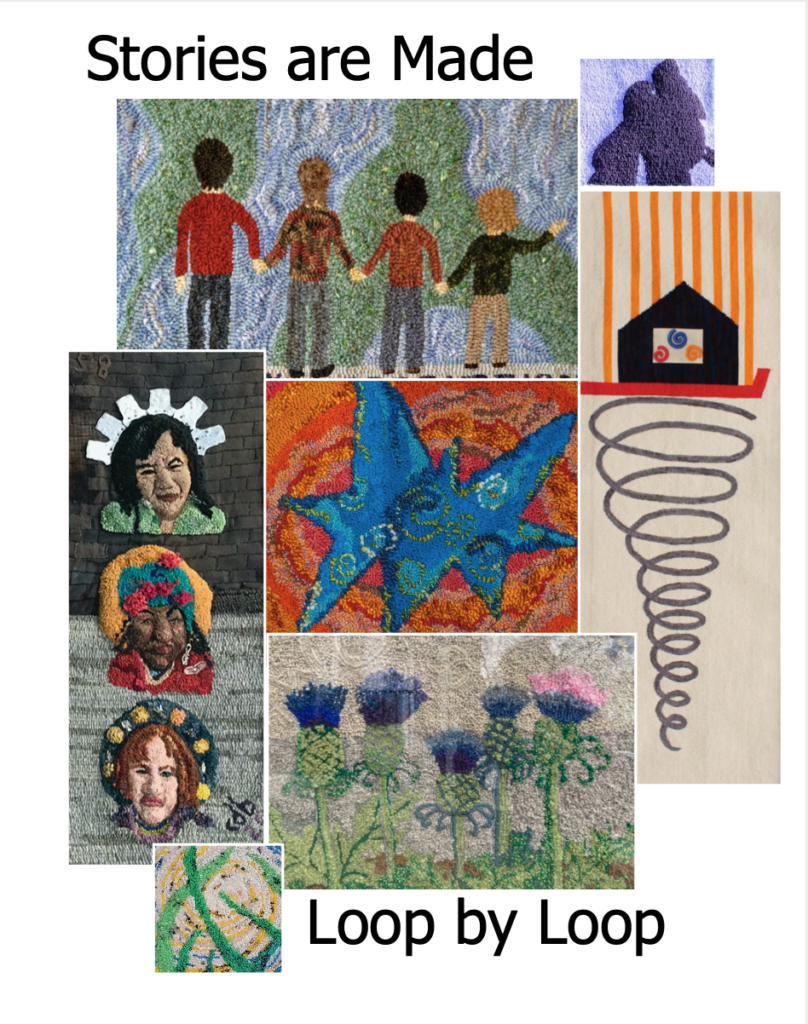 Nevada Tribble is a mixed media artist from Elkins, WV. She has hung a solo show at the Grasshopper Gallery in Lost River Trading Post at Wardensville, WV. Her connection with the environmental elements around the region become the basis for the paper surface she makes. With a bicycle she retrofitted to operate a sewing machine messages are written on the paper, shapes are molded around rocks from the paper and we experience the rippling of creeks in lines and words. This show is up through October, open every day a visit is encouraged to see the details along the Trails + Tributaries
Robert Villamagna, is known on social media as WV_Tinman. He uses nostalgic objects of tin, photos, mementoes from yesterday collaged and in assemblages to make snide comments on life. A solo show in Gallery 2265 a new space on Wheeling's Market Street is open through November 9. Meet the artist on September 23 noon to 3.
Opening at the Dairy Barn Art Center, Athens, OH on October 6 is Voices from West Virginia. Five artists with visually diverse styles interpret personal beliefs and daily life in Appalachia. Ginger Danz, Susan Feller, Suzan Morgan, Leslie Norris and Nicole Westfall use paint, textiles and screen printing to express fresh ideas brewing throughout the arts community in West Virginia and beyond. Suzan Morgan has curated the exhibit open October 6 through November 9.